WePad launched a Referral program for users to generate additional income by performing tasks and inviting friends. Want to join?
This step-by-step guide explains how to earn $WWY tokens by participating in our programs.
About WePad's Referral program
The referral service offered by WePad enables active users to make money by introducing new members who perform tasks on the platform. The fundamental idea behind the referral program is that by simply posting their referral link, WePad users may encourage new members to sign up. Customers who followed the link are now regarded as referrals.
The quantity of referrals affects how well the referral scheme works, so the amount of incentives depends on how many users click the referral link, join the platform, and perform tasks.
The referral page displays a link that a referrer can share. He is shown a dashboard with his incentives after clicking a link, including the quantity of rewards and referrals he has sent to this website. Once a referrer has clicked on a link, he will see his previous tasks' prices crossed out due to the additional perks in his capacity as a referrer.
If the task within a referral program has been completed and the reward for it has been granted, such task is marked with another color.
How to participate in the Referral program
1. Connect your Metamask wallet at www.wepad.io.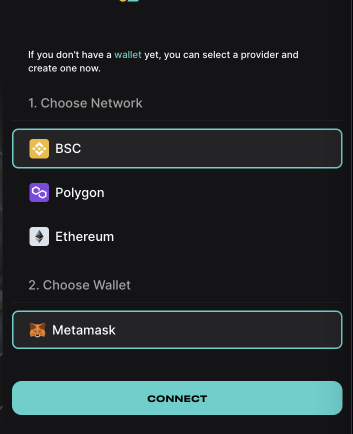 2. Follow the link to the Referral program page.
3. Generate a link by which WePad will identify users who joined via your referral link (double-check its correctness because your earnings directly depend on referrals' completed tasks).
Rules & conditions of the Referral program
Referrers receive bonuses for referrals who join WePad by clicking on the link. The more tasks are completed by referrals, the bigger the reward.

The referrer's task is to motivate users to complete all the assignments – this is what defines the amount of rewards.

The referrer, decides for himself how to manage the rewards – store them in the wallet, sell them, or stake in WePad. We recommend staking because users who hold at least 40,000 $WWY earn passive income and are eligible for participating in IDOs.

All referral statistics are displayed in a personal dashboard: how many users completed tasks and how many bonuses the referrer received for that.
In order for the Partner to receive a reward, the referral must complete the following steps after clicking on the referral link:
Successfully complete the KYC procedure.
Stake a minimum of 40,000 WWY tokens in one of our pools (for 3, 6, or 12 months; the higher the pool, the greater the allocation).
Agree to the platform's terms of use.
Register to participate in the IDO.
Redeem their allocation.
The reward is 10 BUSD for each referral.